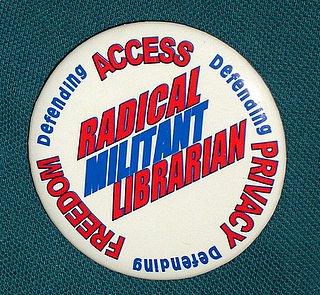 A scholarly journal just for me? Perhaps someday… No, a group of librarians in the UK got together and formed the Radical Librarians Collective to offer a radical approach to library and information issues, particularly to challenge the marketization of libraries. They are against neoliberalism in libraries, not liberalism in the political sense but in the economical. In The Library With The Lead Pipe borrows a definition from Lowes' The Anti-Capitalist Dictionary for neoliberalism:
Neoliberalism can be defined as the belief "that markets are inherently efficient and that the state and public sector have no essential role to play in economic development apart from facilitating the expansion, intensification and primacy of market relations."
They recently decided to create an academic journal with the hopes that these theories could be shared more widely.
The Journal of Radical Librarianship is a new open-access journal publishing a combination of peer-reviewed scholarly writing and non-peer-reviewed commentary and reviews. We're looking for work on the subject of radical librarianship and related areas. Broadly speaking, anything that investigates the political aspects of librarianship or takes a critical theory-based approach to LIS.
via In the Library with the Lead Pipe » A radical publishing collective: the Journal of Radical Librarianship.
They are looking for submissions on radical librarianship which they suggest is "anything that investigates the political aspects of librarianship or takes critical theory-based approach to LIS." Contact them with questions about submission ideas.
We have a similar group here in the us called the Radical Reference Collective. I met up with some of them at ALA one year for drinks and learned more about their organization. Their mission, slightly more broad, I think, than the Radical Librarian Collective is:
Mission Statement: Radical Reference is a collective of volunteer library workers who believe in social justice and equality. We support activist communities, progressive organizations, and independent journalists by providing professional research support, education and access to information. We work in a collaborative virtual setting and are dedicated to information activism to foster a more egalitarian society.
An upcoming post I am working on will go more into this, but it is difficult to do what we do and not become political. Whether we are talking about why libraries are so important or the campaigning for funds to keep the doors open, politics is a big part of librarianship. I look forward to seeing what this journal has to add to libraryland and following the efforts of radical librarians everywhere!